Why Choose a Board Certified Endodontist?
---
Why are Endodontists called Specialists?
---
While all endodontists are dentists, less than 3% of all dentists are endodontists. Similar to other fields, endodontists are specialists who have  completed additional training beyond dental school. Endodontists' two or more years of additional training is focused on root canal treatment and performing endodontic procedures relating to the interior of the tooth. Because diseased teeth can often be saved with endodontic treatment, endodontists proudly refer to themselves as Specialists in Saving Teeth.
---
What is a Board Certified Endodontist?
---
Board-certified endodontists have reached the highest level of education in the specialty.  This dedicated and distinquished group of endodontists have demonstrated their commitment to professional growth and to providing the highest quality of patient care.
Becoming a Diplomate of the American Board of Endodontics is a voluntary process, one in which endodontists must complete rigorous examinations and demonstrate their experience through the presentation of their own endodontic case studies from their practices.
---
What is the American Board of Endodontics?
---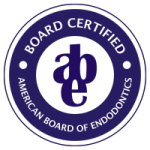 ---
Founded in 1956, They are the only certifying Board in the dental specialty of Endodontics that is recognized by both the American Dental Association & the American Association of Endodontics. The American Board of Endodontics was founded in 1956.
You can learn more by clicking on the ABE logo.
---